FlyBoard is a new sport that has revolutionized the world! It involves riding a
board
that allows you to
levitate in the air
, thanks to two water jets generated by a jet ski or motorboat. Movement through the air can be directed simply via the
inclination of the feet
.
Anyone can practice FlyBoarding, from 16 to 60 years old. Handling the board is very easy and intuitive. It's like learning to ride a bike or waterskiing; all it requires is a bit of balance. In just 5 minutes, 95% of people that try to FlyBoard are flying already!

Recommended by the newspaper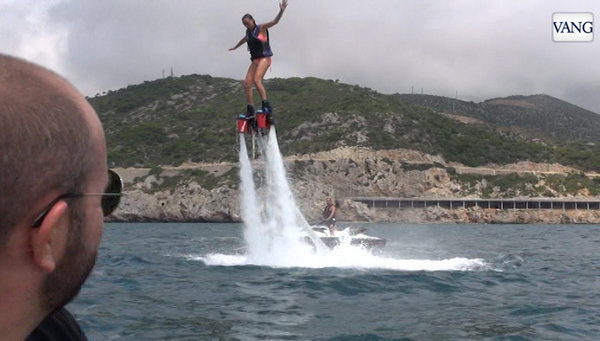 duration of 1 hour 30 minutes to 2 hours
. We gather 3 to 6 people aboard the boat and taking turns for each experience. If you buy one or two individual flights, the activity is shared with other clients, however, if you book as a group of 3 or more people we can organize a private session at a great price. You can request a quote through the
contact form
. Simply watching others FlyBoard live is an amazing experience and a good way to learn yourself.
The activity includes: two certified instructors, a short course on how to flyboard, fifteen or thirty minutes of flight per person, music and drinks on the boat, waterproof cases for telephones, free WiFi to share photos and updates online, a complete set of equipment for each person and… lots of fun, excitement, and adrenaline.
Equipment provided: helmet and life jacket are mandatory. There is an optional neoprene wetsuit that's ideal for winter months.
Those with bookings much be present at the meeting point on the day at the specified time, with swim-wear, sun cream, and a printed copy of the confirmation. The ability to carry out the activity is subject to weather conditions. If weather impedes on the activity then another date can easily be arranged.
6 Steps to perform a Breathtaking FlyBoard Backflip
Learn the most spectacular FlyBoard technique and surprise yourself!

Learn the tricks to pure Ironman style: climb, landing, dolphin, back flip, tornado 180 and many others. Whenever you can go a step further!

The propulsion of the FlyBoard is controlled by a certified professional.
The body is protected from falls and any cold temperatures thanks to the helmet, wetsuit, and lifejacket.
You will feel the pleasant sensation of flight from only a few metres above the sea and at low speeds.
With some practice, you will gain more agility and be able to elevate yourself to larger heights, and even do some fantastic acrobatic tricks, always in coordination with the monitor.
The practice and rental of FlyBoards has also been approved by the Ministry of Development of the government.